Welcome, and thanks for joining us on the journey in building a new way to hire and find work!
Here is a quick overview on becoming familiar with Hussle and Resume-less Recruiting.
If you have not received your Hussle Sign-up invitation email or Hussle Login info please contact your company's Hussle administrator or reach out us directly
support@hussle.work
Hussle Candidate Guarantee
If you've found this handbook we can assume you've found the log-in page. If you're having any issues logging in please contact
Hussle Support
Once logged in you will find your basic dashboard.

It will present you a quick overview of your company's latest active job campaigns.
Jumping into your organization page you'll find all your active job campaigns and job templates.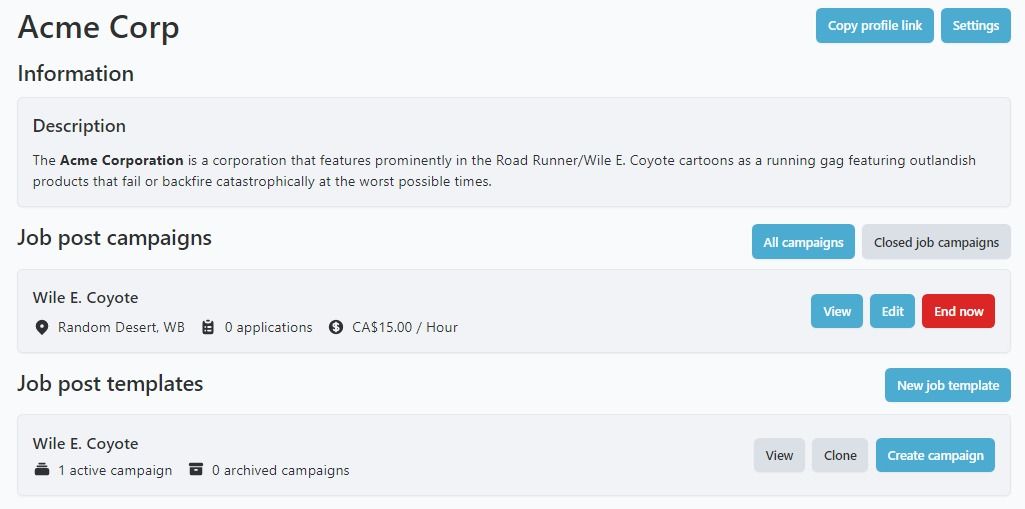 Job Campaigns
Job campaigns are immutable. What does that mean for you? Well, it means that once a job campaign has started, you cannot edit the resume-less process, as this would affect the scoring system.
You can update a few components of an active job campaign that include:
Job Type (i.e. Full-time, Part-time, Seasonal)
Job Types supported by Hussle
Before creating a job campaign be sure to review the job template which will used for the campaign.
Reviewing Applicants
As you start to receive applicants for a job campaign you can quickly review each one.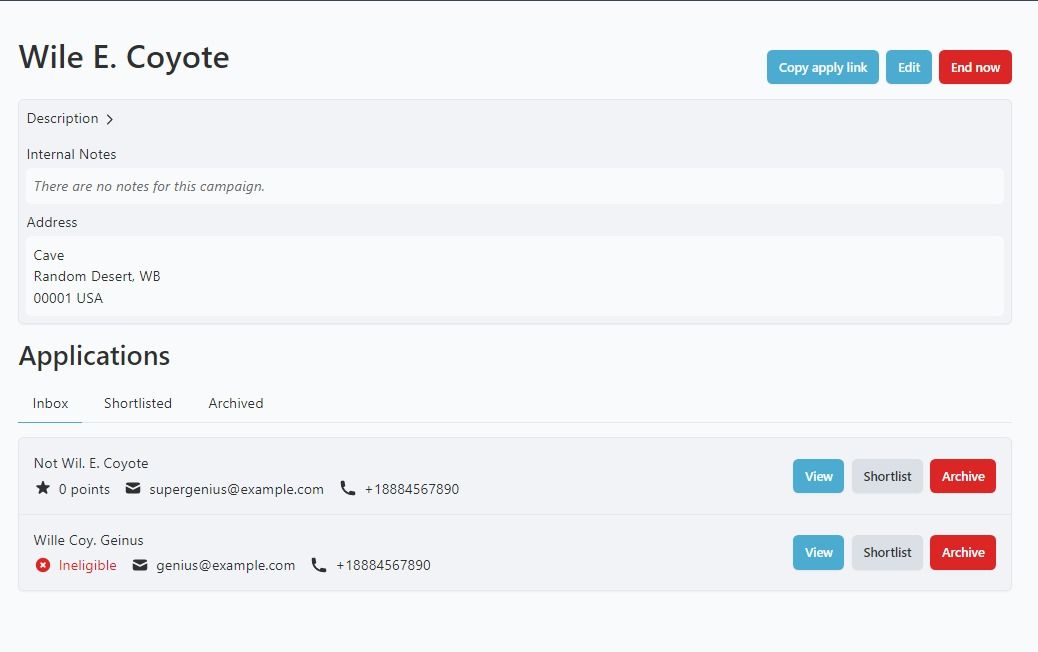 Application are displayed in descending order by points awarded to the applicant.
Those who do not meet the minimum criteria set out by the Employer will be labelled as
Ineligible.
Hussle does not hide any applications, including Ineligible candidates. You can quickly review an applicant to see which criteria they did not meet for eligibility.
Hussle will not allow any criteria to be established as eligibility criteria based on what can rightfully be called intentional discrimination.
Learn more
After a quick review of an applicant you can determine if you want to Shortlist or Archive the application.
Be sure to listen to each applicant Async Interview answers as they provide invaluable insight into a candidate.
Simply click the email to touch base with your top applicant to setup an interview.
Job Templates
Hussle's Resume-less Recruiting approach breaks apart the job application into distinct sections that help create a clear picture of each applicant in less time.
We work with you to insure we're capturing as much data as possible for you to make an educated decision when it comes time to choose candidates.
While we do our best at Hussle to keep your job templates updated with the latest formats, every job campaign has a few nuances that are unique to that job campaign we want to make sure are accounted for.
If you have any questions regarding your job templates please contact your Hussle Guide
Virtual Interviews & Interview Scheduling
Virtual Video Interviews are now fully embedded into the Hussle platform.
No downloads or additional setup required.
All interview streams will open 15 minutes prior to the scheduled start time.
The interview stream will be available for 1 hour after the scheduled end time.
Inteview scheduling how-to:
Interview Scheduling 101
Hussle is constantly releasing more features to aid you in your hiring journey. So please check back frequently to see the updates.
---